ホーム > 世界の幹細胞(関連)論文紹介 > Nerves and T Cells Connect
Nerves and T Cells Connect
論文紹介著者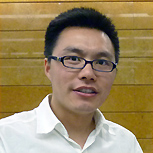 Yan Xiaoxiang(博士課程 2年)
GCOE RA
Department of Cardiology

第一著者名・掲載雑誌・号・掲載年月
Mauricio Rosas-Ballina/Science 2011 Oct 7;334(6052):98-101.
文献の英文表記:著者名・論文の表題・雑誌名・巻・号・ページ・発行年(西暦)
Rosas-Ballina M, Olofsson PS, Ochani M, Valdes-Ferrer SI, Levine YA, Reardon C, Tusche MW, Pavlov VA, Andersson U, Chavan S, Mak TW, Tracey KJ. Acetylcholine-synthesizing T cells relay neural signals in a vagus nerve circuit. Science 2011 Oct 7;334(6052):98-101.
論文解説
Background
Neural circuits regulate organ function in order to maintain optimal physiological stability, providing homeostasis to the body's internal environment. In the immune system, electrical stimulation of the vagus nerve inhibits cytokine release; attenuates tissue injury; and ameliorates inflammation-mediated injury in endotoxemia, sepsis, and other cytokine-dependent models of inflammatory disease. This neural circuit, termed the inflammatory reflex, requires action potentials arising in the vagus nerve, and acetylcholine interacting with the α7 subunit of the nicotinic acetylcholine receptor (nAChR) expressed on cytokine-producing macrophages in spleen.
Electrical stimulation of either the vagus nerve above the celiac ganglion or the splenic nerve itself significantly inhibits tumor necrosis factor-α (TNF-α) production by spleen macrophages, the principal cell source of TNF-α released into the circulation during endotoxemia. Paradoxically, nerve fibers in spleen are adrenergic, not cholinergic, and utilize norepinephrine as the primary neurotransmitter. Thus, although the spleen has been shown to contain acetylcholine, the cellular source of this terminal neurotransmitter in the inflammatory reflex is unknown. Because lymphocytes can synthesize and release acetylcholine, we reasoned that they might be the source of acetylcholine that relays functional information transmitted by action potentials originating in the vagus nerve to the spleen.
Results
Vagus nerve stimulation increases acetylcholine levels in the spleen.
Norepinephrine produced by Vagus nerve stimulation significantly stimulated acetylcholine release by spleen lymphocytes.
Vagus nerve stimulation in WT mice significantly suppressed serum TNF-α production during endotoxemia. Vagus nerve stimulation failed to attenuate serum TNF-α in T cell deficient mice, which indicated that T cell deficiency impairs the inflammatory reflex.
Flow cytometry analysis revealed that these acetylcholine-producing T cells are CD4+ CD44high CD62Llow memory type T cells.
Immunostaining showed that acetylcholine-synthesizing T cells in spleen are located in the proximity of catecholaminergic nerve endings.
Vagus nerve stimulation significantly decreased serum TNF-α levels in endotoxemic nude mice reconstituted with CD4+ CD44high CD62Llow ChAT-EGFP+ cells but not in controls reconstituted with CD4+ CD44high CD62Llow ChAT-EGFP- cells, these results suggested that a subpopulation of helper T cells produced acetylcholine in the spleen and were necessary and sufficient for vagus nerve mediated inhibition of proinflammatory cytokine production.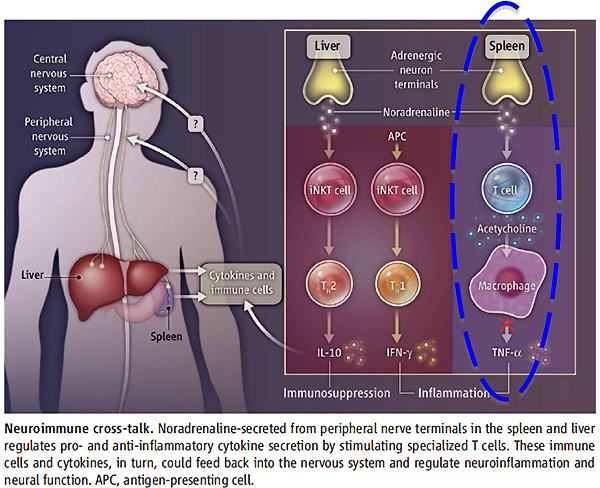 Conclusion: A major finding of this study is the surprising functional role for acetylcholine-producing memory T cells as integral components of a neural information system that controls innate immune responses. It should be possible to target these cells as therapeutic modalities for inflammatory and autoimmune diseases.
用語解説

Copyright © Keio University. All rights reserved.