ホーム > 世界の幹細胞(関連)論文紹介 > Drosophila Sex lethal Gene initiate...
Drosophila Sex lethal Gene initiates Female Development in Germline Progenitors
論文紹介著者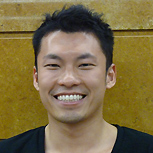 Zachary Yu-Ching Lin(博士課程 2年)
GCOE RA
生理学教室

第一著者名・掲載雑誌・号・掲載年月
Hashiyama K./Science 1208146, 7 July 2011, Page1126.
文献の英文表記:著者名・論文の表題・雑誌名・巻・号・ページ・発行年(西暦)
Example: Kazuya Hashiyama, Yoshiki Hayashi, Satoru Kobaashi. Drosophila Sex lethal Gene Initiates Female Development in Germline Progenitors. Science 1208146, 7 July 2011, Page1126.
論文解説
Background
Primordial germ cells (PGC) *1can become eggs or sperm. PGC do not decide its sex until its surrounding cell tells them. How did surrounding cell makes PGC to decide its sex is still unclear. In fruit fly, male surrounding cell make PGC become male through a pathway called JAK/STAT, but female pathway is remained unknown. A gene known as Sex lethal (Sxl) was observed at female embryonic soma and it function through transformer (tra) and transformer-2 (tra2) that regulate alternative splicing of the gene known as doublesex (Dsx) to produce female specific form of Dsx. This pathway was not observed in male embryonic soma and only male specific form of Dsx was detected.
Research result
They first introduced over-expression of Sxl into male PGC, and this makes male PGC become susceptible to a gene known as lwrDN that cause fermale-specific embryo apoptosis. This raises the possibility that Sxl might play a part at PGC sex decision-making. Moreover, by using reporter genes, Sxl gene was also observed only in female PGC during its development but not male PGC.
In the previous study, female PGC transplanted into male host leads to male PGC turning into male. On the contrary, male PGC directly transplanted into female host did not result in female PGC. In order to overcome this observation, Researcher wondered would force Sxl gene expressed into male PGC make a different? They developed a system to force Sxl express in male PGC with the variation in developmental stages. They found that forced expression of Sxl after stage 9 can make male PGC turn into female PGC and even produce eggs, while forced expression of Sxl after stage 16, male PGC maintain its male characteristics. In order to found out the importance of Sxl gene in female PGC, researchers knockdown Sxl expression in female PGC and the result also displays male characteristics. Moreover, the researcher transplanted those male PGC with forced expression of Sxl into male host, and the result showed that Sxl-expressing male PGC turn male and can produce sperm.
Conclusion
Sxl acts as a master gene that is necessary and sufficient to induce female development in fruit fly PGC. However, male soma plays a dominant role in determining the male PGC fate and can override the feminizing effect of Sxl. Therefore, female germline development requires interactions between PGC and somatic cell, in addition of a pathway that involving Sxl.
用語解説
*1 Germ stem cell progenitor

Copyright © Keio University. All rights reserved.