ホーム > 世界の幹細胞(関連)論文紹介 > Wnt signaling is a key pathway for ...
Wnt signaling is a key pathway for regulation of Melanocyte stem cells.
論文紹介著者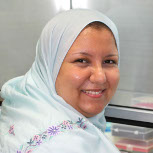 Marwah Adly Saleh(博士課程 4年)
GCOE RA
Department of Dermatology

第一著者名・掲載雑誌・号・掲載年月
Piul Rabbani and Makoto Takeo/Cell 145, 941-955, June 10, 2011
文献の英文表記:著者名・論文の表題・雑誌名・巻・号・ページ・発行年(西暦)
Piul Rabbani, Makoto Takeo, WeiChin Chou, Peggy Myung, Marcus Bosenberg, Lynda Chin, M. Mark Taketo, Mayumi Ito
Coordinated Activation of Wnt in Epithelial and Melanocyte Stem Cells Initiates Pigmented Hair Regeneration
Cell 145, 941-955, June 10, 2011
論文解説
Introduction
Successful regeneration of a functional organ relies on the organized and timely orchestration of molecular events among distinct stem/progenitor cell populations. The mammalian hair follicle (HF) contains epithelial stem cells (EpSCs) which express Keratin 15 and melanocytes stem cells (McSCs) which are responsible for the hair pigmentation. These two distinct cell populations act in concert to regenerate pigmented hair with each hair cycle. The hair cycle is composed of growth phase (anagen) and rest phase (telogen).
The molecular mechanisms that regulate EpSCs have been thoroughly studied. Wnt1/β-catenin2 signaling proved essential for EpSCs proliferation and differentiation. In contrast to EpSCs, the molecular mechanisms that regulate McSCs remain mostly unknown.


Aim of the work
To determine how Melanocyte stem cells (McSCs) and epithelial stem cells (EpSCs) become activated to proliferate and differentiate in a synchronized manner to regenerate a hair follicle.


Summary
This work showed that Wnt signaling1 is essential for McSCs differentiation and hair pigmentation. On the other hand, forced activation of Wnt signaling in McSCs results in premature differentiation of McSCs and accelerated McSCs exhaustion which leads to McSCs loss. Therefore Wnt suppression is necessary to maintain McSCs in an undifferentiated state.
The lack of β-catenin2 in EpSCs not only arrested EpSC proliferation, but also blocked McSC proliferation. Furthermore, a specific gene modulation of gene expression in EpSCs altered the behavior of McSCs. Wnt signaling in EpSCs stimulates expansion of melanocytes. This is mediated by Endothelin3 receptor B signaling. This suggests that EpSCs not only serves as the source of epithelial components of the follicle, but also regulate proliferation and differentiation of McSCs which in turn provide pigment to the epithelial cells during HF formation.
The coordinated activation of the two stem cells involving Wnt signaling may occur in the secondary hair germ.


Conclusion
The study demonstrated that Wnt signaling is a key pathway for both intrinsic and extrinsic regulation of McSCs in their niche. Furthermore, there may be other signaling pathways that activate EpSCs and influence McSCs and serve as additional means of communication between the two cell types.
The regulation of Wnt signaling in McScs may offer strategies to preserve McScs which exhaust during aging as a result of inappropriate differentiation.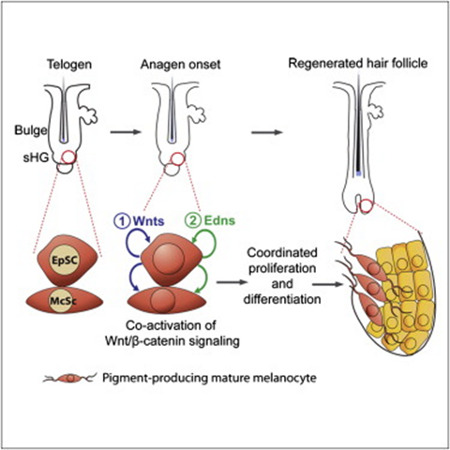 EpSCs express Wnts that activate Wnt signaling in McSCs and EpSCs at anagen onset. Similar to EpSCs, Wnt activation in McSCs commits them to differentiation. Forced Wnt activation in epithelial cells induces their endothelin upregulation. Wnt activated EpSCs express endothelins that promote melanocyte proliferation (Rabbani et., al., 2011).
用語解説
*1 Wnt signaling is a network of proteins that are involved in physiological processes.
*2 β-catenin is a key downstream mediator of Wnt signaling.
*3 Endothelins are signaling peptides essential for melanocyte development.

Copyright © Keio University. All rights reserved.