HOME > Program Members > Naoto T. Ueno

Naoto T. Ueno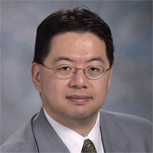 Professor of Medicine, Department of Breast Medical Oncology
Breast Cancer Translational Research Laboratory
Department of Stem Cell Transplantation and Cellular Therapy
The University of Texas M. D. Anderson Cancer Center
Naoto T. Ueno, MD, PhD
Theme
Development of anti-EMT therapy in breast cancer with basal-like phenotype
Epithelial-to-mesenchymal transition (EMT) is characterized by the combined loss of epithelial cell junction proteins (e.g., E-cadherin) and gain of mesenchymal markers (e.g., vimentin and fibronectin). It has become increasingly clear that EMT plays a major role in the progression of cancer. The loss of E-cadherin has been associated with poor clinical outcome in breast cancer. Recently, EMT has been suggested as a reason for aggressiveness of basal-like breast cancer. Therefore, we hypothesize that mesenchymal characteristics of breast cancer reflect the malignancy of breast cancer and can be applied for identification of prognostic markers and targets for therapy. Specific aims of our project are:
To generate the breast cancer mouse models which are genetically induced EMT.
To analyze the relationship between inflammatory breast cancers and EMT.
To test various inhibitors for intracellular signals for their activities to suppress EMT of breast cancer cells.
These data will be generated through triple negative breast and inflammatory breast cancer subtypes. These subytpes are selected because their high incidience of metastasis through EMT process.
Further, these breast cancer cells still lack a reliable preclinical model which allows for drug development.

Our goal is for our staff to hava regular exchane of critiques and ideas to make sure that these above goals are accomplished.
Research activities
Major pathways of EMT include growth factors (TGF-β, EGF, etc.), receptor tyrosine kinases (EGFR, TGF-βR, c-met, etc.), Ras and other small GTPases, Src, beta-catenin, and integrins. Most of these pathways converge on the downregulation of E-cadherin, an event critical in tumor invasion and a "master" programmer of EMT. Both the TGF-β and EGFR pathways are known to coverage to ERK, which is regulated by MEK. Our data revealed that treatment of ovarian cancer cells and breast cancer cells with MEK inhibitor modulates EMT biomarkers increases E-cadherin and decreases fibronectin. This indicates potential of MEK inhibitor as an anti-EMT drug. We have determined the biological impact of blocking the EGFR pathway on IBC cell lines, SUM149 and KPL-4, which express high level of EGFR. Both EGFR siRNA knockdown or EGFR tyrosine kinase inhibitor erlotinib inhibited inflammatory breast cancer (IBC) cell proliferation and anchorage-independent growth of IBC cells, and this inhibition was ERK dependent. Erlotinib also inhibited cell motility and invasiveness. Furthermore, erlotinib reversed the mesenchymal phenotype of IBC cells, which may suggest more likely for metastasis, to epithelial phenotype in three-dimensional culture at drug concentration where cytotoxic effect was not observed. These erlotinib-treated tumors had high expression of the epithelial marker E-cadherin and low expression of the mesenchymal marker vimentin compared with untreated tumors, suggesting that erlotinib exerts its antimetastatic activity in IBC by inhibiting epithelial-mesenchymal transition (EMT). Our results indicate that the EGFR pathway is involved in tumor growth and metastasis of IBC. Targeting EGFR through the ERK pathway may represent an effective therapeutic approach to EGFR-expressing IBC.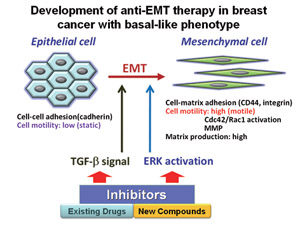 Fig.1 Strategyfordevelopmentof anti-EMTtherapyinbreast cancer with basal-like phenotype
Selected Paper
Bartholomeusz C, Itamochi H, Nitta M, Saya H, Ginsberg MH, Ueno NT.
Antitumor effect of E1A in ovarian cancer by cytoplasmic sequestration of activated ERK by PEA15. Oncogene 25(1):79-90, 2006.
Yamasaki F, Johansen MJ, Zhang D, Krishnamurthy S, Felix E, Bartholomeusz C, Aguilar RJ, Kurisu K, Mills GB, Hortobagyi GN, Ueno NT. Acquired Resistance to Erlotinib in A-431 Epidermoid Cancer Cells Requires Downregulation of MMAC1/PTEN and Upregulation of Phosphorylated Akt. Cancer Research 67:5779-5788, 2007.
Anderlini P, Saliba R, Acholonu S, Giralt SA, Andersson B, Ueno NT, Hosing C, Khouri IF, Couriel D, de Lima M, Qazilbash MH, Pro B, Romaguera J, Fayad L, Hagemeister F, Younes A, Munsell MF, Champlin RE. Fludarabine-melphalan as a preparative regimen for reduced-intensity conditioning allogeneic stem cell transplantation in relapsed and refractory Hodgkin's lymphoma: the updated M.D. Anderson Cancer Center experience. Haematologica 93(2):257-64, 2008.
Nakayama K, Milbourne A, Schover LR, Champlin RE, Ueno NT. Gonadal failure after treatment of hematologic malignancies: from recognition to management for health-care providers. Nat Clin Pract Oncol 5(2):78-89, 2008.
Zhang D, Pal A, Bornmann WG, Yamasaki F, Esteva FJ, Hortobagyi GN, Bartholomeusz C, Ueno NT. Activity of lapatinib is independent of EGFR expression level in HER2-overexpressing breast cancer cells. Mol Cancer Ther 7(7):1846-50, 2008.

Copyright © Keio University. All rights reserved.