HOME > Program Members > Yumi Matsuzaki

Yumi Matsuzaki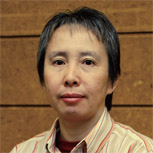 Associate Professor, Center of Integrated Medical Research, Graduate School of Medicine, Keio University
Yumi Matsuzaki, MD, PhD
penguin@sc.itc.keio.ac.jp
http://www.coe-stemcell.keio.ac.jp/jp/space/index.html
Theme
Isolation and transplantation of tissue-specific stem cells
Stem cells are generally defined as cells capable of both self-renewal and multi-lineage differentiation. During development and regeneration of a given tissue, such cells give rise to non-self-renewing progenitors with restated differentiation potential, and finally to functionally mature cells, while maintaining primitive stem cells. Because of these unique properties, stem cells offer the novel and exciting possibility of organ reconstitution in place of transplanted organs in the treatment of organ failure. However, safety issues still need to be clarified prior to their clinical use, particularly because so many biological aspects are often unknown. In our group, we try to isolate organ specific stem cells with a cell-sorting technique and study their nature. Advances in this field hold promise for the development of rationale-based stem cell therapies for tissue regeneration and of gene therapy for inherited disorders.
Selected Paper
Matsuzaki Y, Kinjo K, Mulligan RC, Okano H. Unexpectedly efficient homing capacity of purified murine hematopoietic stem cells. Immunity. Jan; 20(1):87-93, 2004.
Masuda H, Maruyama T, Hiratsu E, Yamane J, Iwanami A, Nagashima T, Ono M, Miyoshi H, Okano HJ, Ito M, Tamaoki N, Nomura T, Okano H, Matsuzaki Y, Yoshimura Y. Noninvasive and real-time assessment of reconstructed functional human endometrium in NOD/SCID/gammac null immunodeficient mice. Proc Natl Acad Sci U S A. Feb 6; 104(6):1925-30, 2007.
Ono M., Maruyama T., Masuda H., Kajitani T., Nagashima T., Arase Toru., Ito M., Ohta K., Uchida H., Asada H., Yoshimura Y., Okano H., Matsuzaki Y. Side population in human uterine myometrium displays phenotypic and functional characteristics of myometrial stem cells. Proc Natl Acad Sci U S A. Nov 20; 104(47):18700-5, 2007.
Nagoshi N, Shibata S, Kubota Y, Nakamura M, Nagai Y, Satoh E, Morikawa S, Okada Y, Mabuchi Y, Katoh H, Okada S, Fukuda K, Suda T, Matsuzaki Y, Toyama Y, Okano H. Ontogeny and multipotency of neural crest-derived stem cells in mouse bone marrow, dorsal root ganglia, and whisker pad. Cell Stem Cell. Apr 10; 2(4): 392-403, 2008.
Morikawa S, Mabuchi Y, Niibe K, Suzuki S, Nagoshi N, Sunabori , Shimmura S, Nagai Y, Nakagawa T, Okano H, Matsuzaki Y. Development of mesenchymal stem cells partially originate from the neural crest. BBRC Feb 20; 379(4): 1114-9, 2009.

Copyright © Keio University. All rights reserved.