HOME > Program Members > Hans S. Keirstead

Hans S. Keirstead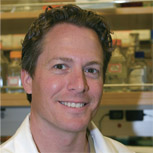 Associate Professor, Sue and Bill Gross Stem Cell Research Center, University of California, Irvine
Hans Keirstead, PhD
hansk@uci.edu
http://www.reeve.uci.edu/
Theme
Regenerative medicine for motor neuron diseases and spinal cord injuries using human pluripotent stem cells.
Using human iPS cells, which were established in Okano's laboratory, we are going to induce them into motoneuron precursor cells or oligodendrocyte precursor cells. Using these precursor cells,we are going to transplant them into model animals for amyotrophic lateral sclerosis (ALS) or spinal cord injury (SCI). As advanced preclinical studies, we wish to collaborate Okano's laboratory to apply these human iPS cells-derived motoneuron precursor cells or oligodendrocyte precursor cells for common marmoset SCI models.
Research activities
Our Group, at the University of California, Irvine, in collaboration with Geron Corp., developed a method to produce oligodendrocyte progenitor cells from human ES cells (ESCs). These cells, named GRNOPC1, were tested in a validated rodent model of acute SCI. Under anesthesia, animals were given a spinal cord contusion injury, mimicking what occurs in humans who suffer traumatic injury to the spinal cord. The lesions resulted in loss of truncal muscle function ,bladder control and hind limb function. The injured animals received either no treatment, control cells or media, or one injection ofGRNOPC1 within seven days after injury. Animals were then carefully followed and observed for locomotor recovery after the injury. Injured animals treated with GRNOPC1 displayed significant improvement in a variety of functional parameters compared to control groups. GRNOPC1-treated animals had improved hind limb locomotor control.When the GRNOPC1-treated animals were examined histologically, increased remyelination of axons in the injury site was observed compared to that in the control animals. Increased axonal survival and sprouting were also observed in the vicinity of the injection within the injury (Keirstead et al. . Journal of Neuroscience, 2005). These animal observations, together with comprehensive safety studies, serve as the rationale for the use of GRNOPC1 in treating spinal cord injuries in man. Notably, the company (Geron Corp.) recently received clearance from the U.S. Food and Drug Administration (FDA) of its Investigational New Drug (IND) application for acute spinal cord injury patients using GRNOPC1. This is the world's first human clinical trial of an hESC-based therapy.1. Keirstead, H. et al. J. Neurosci, 25: 4694-4705, 2005.2. Geron's Homepage: http://www.geron.com/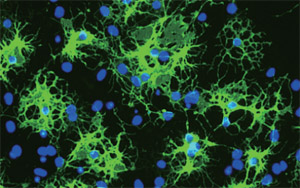 Fig.1 Oligodendrocytes in culture
-Anti-GalC staining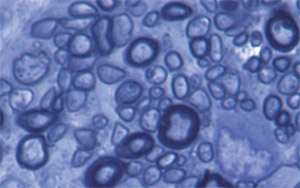 Fig.2 Remyelination in transplanted spinal cord
Selected Paper
Matsuzaki Y, Kinjo K, Mulligan RC, Okano H. Unexpectedly efficient homing capacity of purified murine hematopoietic stem cells. Immunity. Jan; 20(1):87-93, 2004.
Gonzalez, Rafael, Hardison, Jenny L., Glaser, Janette, Liu, Michael T., Lane, Thomas E. and Keirstead, Hans S. The Chemokine CXCL10 as a Therapeutic Target in Animal Models of Neuroinflammatory Disease. Letters in Drug Discovery and Development (in press).
Cloutier, Frank, Siegenthaler, Monica M., Nistor, Gabriel and Keirstead, Hans S. Transplantation of human embryonic stem cell-derived oligodendrocyte progenitors into rat spinal cord injuries does not cause harm. Regenerative Medicine 1(4); 469-479.
Glaser, Janette, Gonzalez, Rafael, Sadr, Ellika and Keirstead, Hans S. Neutralization of the Chemokine CXCL10 Reduces Apoptosis and Increases Axon Sprouting Following Spinal Cord Injury. J. Neurosci. Res. 84(4):724-34.
Faulkner, Jill and Keirstead, Hans S. Human Embryonic Stem Cell-Derived Oligodendrocyte Progenitors for the Treatment of Spinal Cord Injury. Transplant Immunology15:131-142.

Copyright © Keio University. All rights reserved.