HOME > Program Members > Keiichi Fukuda

Keiichi Fukuda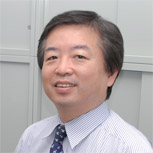 Professor, Department of Regenerative Medicine and Advanced Cardiac Therapeutics, Graduate School of Medicine, Keio University
Keiichi Fukuda, MD, PhD
kfukuda@sc.itc.keio.ac.jp

Theme
Implementation of Regenerative Medicine for the Treatment of Intractable Diseases
Our group has already identified the factor Noggin, which efficiently induces differentiation of myocardial progenitors from ES cells. In addition, we have identified a factor that induces cardiomyocyte differentiation from myocardial progenitors and a factor that causes immature cardiomyocytes that have just differentiated to undergo cell division. Moreover, by identifying a dye that is capable of specifically staining cardiomyocytes and developing a technique to separate the cardiomyocytes it has become possible to efficiently transplant cardiomyocytes without forming teratomas. In this project we plan to conduct basic research and a preclinical study in order to realize "a regenerated cardiomyocyte transplantation method using human ES cells" as an alternative to replace heart transplantation as a means of treating severe heart failure in humans. More specifically, we aim to (1) establish a technique to use human ES cells to produce large numbers of cardiomyocytes, (2) separate and purify regenerated cardiomyocytes and undifferentiated stem cells/non-cardiomyocytes and establish a transplantation technique that is not associated with teratoma formation, (3) transplant human regenerated cardiomyocytes into monkey hearts free of heart disease and assess pathological changes immediately after transplantation, whether teratomas have formed, arrhythmogenicity, etc., and (4) transplant human regenerated cardiomyocytes into the hearts of monkeys with heart failure after producing a myocardial infarction, and to encompass all preclinical studies prior to clinical application.
Research activities
In order to establish an effective method of inducing cardiomyocytes from human ES cells and establish an efficient transplantation method, in this project we have analyzed cardiomyocyte differentiation inducing signals, developed an efficient method of inducing myocardial differentiation by monkey and human ES cells, and conducted transplantation experiments. By elucidating the factors that are essential for myocardial induction in previous stages of the project we have discovered that Noggin and other humoral factors are important to induction of myocardial differentiation. We have also succeeded in developing a technique for efficiently inducing differentiation of cardiomyocytes from monkey ES cells and a technique for isolating regenerated cardiomyocytes and undifferentiated stem cells, including cells derived from human ES cells. We found that more than 95% of the regenerated cardiomyocytes undergoes necrosis when they are transplanted with an injection needle, and we established a simple method of producing cell sheets by an original method. We used it as the basis for producing sheets of monkey regenerated cardiomyocytes and also established a novel, efficient transplantation method. We have identified important factors for maintaining normal heart valves, and taken a step toward making valve regeneration a reality. In addition, we demonstrated that adjusting the density of the distribution of sympathetic nerves was important in order to prevent arrhythmias when we used regenerated cardiomyocytes to regenerate hearts, that Sema3A is responsible for doing so in vivo, and that in failing myocardium the sympathetic nerves rejuvenate mediated by humoral factors.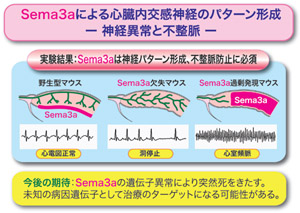 Fig.1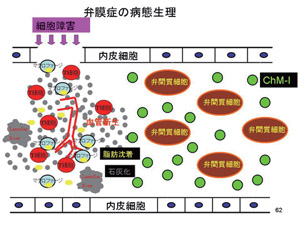 Fig.2
Selected Paper
Masaki Ieda, Keiichi Fukuda, Kensuke Kimura, Yasuyo Hisaka, Haruko Kawaguchi, Kouji Shimoda, Eiko Takeshita, Hideyuki Okano, Yukiko Kurihara, Hiroki Kurihara, Junji Ishida, Akiyoshi Fukamizu, Linda Salamone, Howard J. Federoff, Satoshi Ogawa. Endothelin-1 regulates cardiac sympathetic nerve innervation in the rodent heart by controlling nerve growth factor expression. J Clin Invest 113: 1-10, 2004
Shinsuke Yuasa, Yuji Itabashi, Uichi Koshimizu, Tomofumi Tanaka, Keijiro Sugimura, Masayoshi Kinoshita, Fumiyuki Hattori, Shin-ichi Fukami, Takuya Shimazaki, Satoshi Ogawa, Hideyuki Okano, Keiichi Fukuda. Transient and strong inhibition of BMP signals by Noggin induces cardiomyocyte differentiation in murine embryonic stem cells. Nature Biotechnology 23: 607-611, 2005
Masatoyo Yoshioka, Shinsuke Yuasa, Kensuke Kimura, Naritaka Kimura, Keisuke Matsumura, Takayuki Shiomi, Chisa Shukunami, Yasunori Okada, Makio Mukai, Hankei Shin, Ryohei Yozu,
Masataka Sata, Satoshi Ogawa, Yuji Hiraki, Keiichi Fukuda. Chondromodulin-I maintains cardiac valvular function by preventing angiogenesis. Nature Medicine 2006;12:1151-1159.
Masaki Ieda, Hideaki Kanazawa, Kensuke Kimura, Fumiyuki Hattori, Yasuyo Ieda, Masahiko Taniguchi, Jong-Kook Lee, Itsuo Kodama, Keisuke Matsumura, Yuichi Tomita, Kouji Shimoda,
Shinji Makino, Motoaki Sano, Satoshi Ogawa, Keiichi Fukuda. Sema3a maintains normal heart rhythm through sympathetic innervation patterning. Nature Medicine 13, 604 - 612 , 2007
Satori Tokudome, Motoaki Sano, Ken Shinmura, Tomohiro Matsuhashi, Shintaro Morizane, Hidenori Moriyama, Kayoko Tamaki, Kentaro Hayashida, Hiroki Nakanishi, Noritada Yoshikawa, Noriaki Shimizu, Jin Endo, Takaharu Katayama, Mitsushige Murata, Shinsuke Yuwasa, Ruri Kaneda, Kengo Tomita, Naomi Eguchi, Yoshihiro Urade, Koichiro Asano, Yasunori Utsunomiya, Takeshi Suzuki, Ryo Taguchi, Hirotoshi Tanaka, Keiichi Fukuda. Glucocorticoid protects heart from ischemia-reperfusion injury through activation of lipocalin-type prostaglandin D synthase-derived PGD2 biosynthesis. J Clin Invest 2009 (accepted, in press)

Copyright © Keio University. All rights reserved.